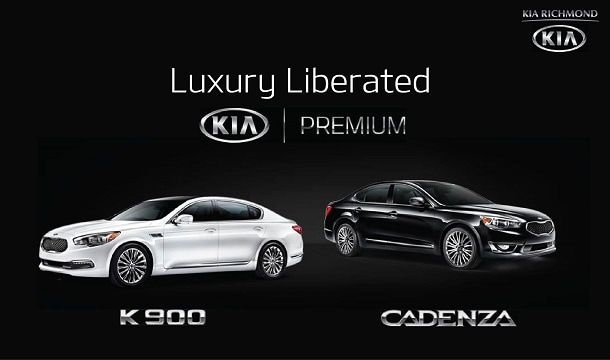 What is a luxury automobile?
Is it a car of exceptional design and quality? Of exemplary technology and comfort features? Of prestige and privilege?
For every question, Kia developed a ground-breaking answer, expressed in a new line of premium vehicles styled, engineered, presented and serviced with the same laser-sharp vision that has made Kia the breakthrough brand in the automotive world.
Premium. Luxury Liberated.
Introducing the all-new 2015 Kia K900, our first rear-wheel luxury sedan. It comes with an available 420 HP V8 engine, not to mention a luxurious interior featuring walnut wood accents and premium nappa leather. Look for it at a Kia Richmond.
Read more
Introducing the all-new 2014 Kia Cadenza artfully combines luxury and technology into one expectation defying package. What's more, it's a statement that luxury no longer belongs to the privileged few.
Read more
Kia Premium is prestige and privilege for a new era, celebrating the The enjoyment of owning and driving a Kia luxury vehicle and defining a new experience: Luxury Liberated.
It encompasses the full realm of luxury, including the exemplary Kia Premium ownership experience delivered through an exclusive network of certified Kia Premium Dealers.
_____________________________________________________________________________
As a registered Kia Premium customer, you will receive a complimentary Premium Rewards Membership that provides exclusive advantages to enhance the performance and prestige of your driving experience.
5-Year/100,000-km Worry-free, No-Charge Scheduled Maintenance *
Your Premium Kia has been designed to need as little maintenance as possible. This means that regularly scheduled maintenance is now more significant to obtaining the highest level of performance, safety and reliability in your Premium Kia.
True to the luxury vehicle class, your new Kia Premium vehicle ownership includes complimentary scheduled maintenance.
SERVICE A:
Oil and oil filter change/multi-point inspection (MPI)
SERVICE B:
Oil and oil filter change/cabin air filter change/tire rotation/MPI
SERVICE C:
Oil and oil filter change/cabin air filter change/engine air filter change/tire rotation/MPI
SERVICE D:
Oil and oil filter change/cabin air filter change/engine air filter change/tire rotation/MPI/automatic transaxle fluid change
Premium Ownership Care & Warranty Coverage
Benefit from peace-of-mind coverage from the coast-to-coast Kia Dealer network, including:
True to the luxury vehicle class, your new Kia Premium vehicle ownership includes complimentary scheduled maintenance.
1-YEAR/20,000 KM of service adjustments covering consumable items such as light bulbs, wiper blades, fuses, brake pads
5-YEARS/100,000 KM of worry-free comprehensive warranty covering virtually the entire vehicle
5-YEARS/UNLIMITED KM of anti-perforation coverage on body sheet metal defects in material and workmanship
8-YEARS/130,000 KM of major emission component coverage that guarantees your Kia luxury car will conform to government emission regulations
Courtesy Vehicle & Concierge Shuttle
Kia is pleased to provide all Kia Premium members with alternative transportation while your vehicle undergoes service. Options include a temporary replacement vehicle or concierge shuttle arranged at time of booking. Some restrictions may apply. More details are available at Kia Richmond.
Complimentary Car Wash with Every Premium Service Visit
Kia Premium service includes a complimentary car wash every time you bring your vehicle in for servicing performed by your Kia Premium Dealer's factory-trained technicians.
Worry-Free, Year-Round Roadside Assistance
With Kia Premium's 24/7/365 Roadside Assistance, you'll never worry about a road trip again. Our Roadside Assistance specialists are there to ensure you receive prompt and efficient service no matter where you travel in North America through the first 5 years or 100,000 km of ownership.
Premium Reward Points
KIA DEALER POINTS:
Earn 20 Kia Dealer Points for every $1 spent at your Kia Dealer on accessories, parts, and service. That's equivalent to getting 10% of your purchase amount in savings toward future purchases at your favourite Dealership. Dealer Points can also be combined with Kia Canada Points to redeem toward the purchase or lease of a new vehicle.
KIA CANADA POINTS:
Upon the purchase of a new Kia Premium vehicle, you will receive 200,000 Kia Canada Points ($1,000) to redeem towards your next new Kia lease or purchase.
Car Rentals
Travel with ease and receive preferential rates on car rentals nationwide when you present your Kia Premium membership card. Please consult your authorized Kia Premium dealer, or visit kiapoints.ca for further details.
Premium Service Centre Hotline
The Kia Premium Service Centre Hotline provides exclusive access to information about warranty coverage, the features of your vehicle and authorized Kia Premium Dealer locations.
Contact the Kia Premium Service Centre at 1-855-343-0522 from Monday to Friday, 8:30 am to 5:30 pm, Eastern Time.
*Services are alternating in a predetermined sequence (A, B, A, C...) with service D occurring once at 96,000 km. Any maintenance work specifically requested by you or recommended by an authorized Kia Dealer in addition to the items listed above is not covered. Any items discovered during the Multi-Point Inspection process that may require replacement are not covered - unless specifically listed above or covered under the original vehicle warranty. All wear items such as but not limited to: brakes, rotors, wiper blades, bulbs etc. are specifically excluded. The new vehicle warranty is transferable; however, the scheduled maintenance is non-transferable.