2016 KIA SOUL EV HYBRID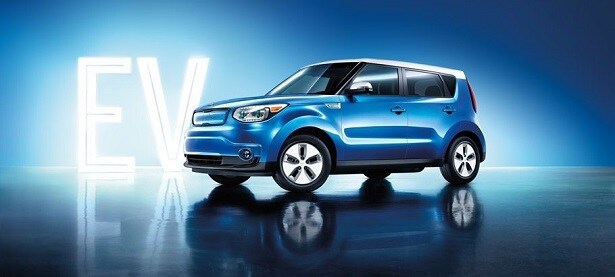 Fully Charged. 
Introducing a vehicle that's as technologically advanced as it is fun to drive - the 2016 Kia Soul EV1. It's everything you'd want in a zero emission electric car.
Charge Soul Power.
A 27-kWh, 360-volt, 192-cell lithium-ion polymer battery is designed for high-energy capacity, thermal stability and provides an official EPA-estimated range2 of 149 km on a full charge. Its flat design and location beneath the floor means there's minimal battery intrusion into the cabin, which helps Soul EV provide plenty of interior space. It was engineered with state-of-the-art materials to increase durability while also reducing its weight and increasing energy density.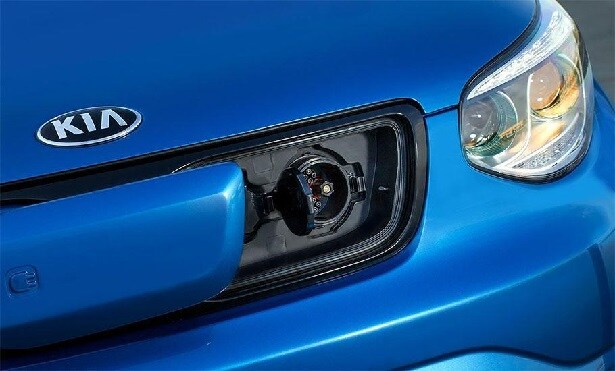 Three ways to charge and go. 
Two charging ports are located behind a sliding door in the front grille. The first port is for 120V charging - or 240V charging that allows a full charge in approximately five hours3. The second is an available DC Fast Charge port designed for 480V charging that can achieve an 80 percent charge from empty in 33 minutes.Slow down, charge up. To help maximize Soul EV's driving range, the regenerative braking system captures a portion of the vehicle's kinetic energy. As you brake or coast, kinetic energy is captured and fed back into the battery.
Charge status indicator.
Plug in your Soul EV and the charge status indicator illuminates with 3 light levels to tell you when you reach full charge. A clear view through the windshield lets you quickly check your status from outside your car.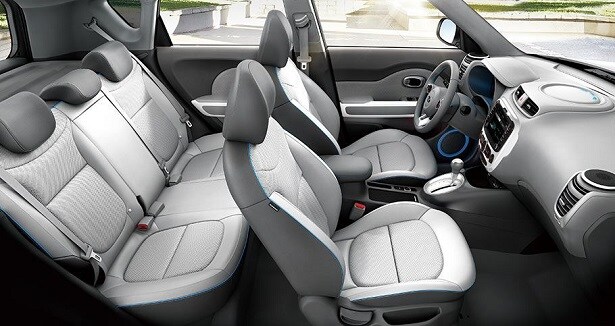 Interior
Comfort at unexpected levels. 
The Soul EV and iconic Soul were designed together to provide exceptional comfort and maximum flexibility. The Soul EV's split-folding rear seats offer class-leading4 cargo space and a variety of storage options. And the under-floor battery means plenty of interior space for your friends. From the exclusive bio-sourced materials and available leather seating all the way down to the distinctive highlight stitching-this modern interior looks, feels, and does good.
Eco-friendliest. 
What does it take to be the first ever vehicle to receive UL Environment recognition? The rigorous evaluation of materials and manufacturing. Nineteen parts of its total interior mass are composed of bio-based materials, earning the Soul EV the first and only UL environmental claim validation in the industry. 
Plus, the Soul EV is more than freedom from the pump and harmful emissions. On certain interior parts, we used paint that's free of harmful chemicals like benzene so that you can breathe cleaner air5 
Bio-Based
From headliner to trim to carpet, the Soul EV's earth-friendly plastics are made from plant-based materials like sugar cane and corn, all validated by UL Environment. 
Less VOC
The sound system, vent, and floor console are covered in BTX-free and water-borne paints, reducing levels of harmful volatile organic compounds (VOC) for better air quality in the cabin.
Roomier than the rest. 
With the Soul EV, you don't have to compromise interior space or versatility. From the 60:40 split-folding rear seats to the hidden luggage under tray for storing your 120-volt charging cord. Soul EV offers ample headroom, legroom and class-leading6 cargo space, to haul friends and all your gear.
Heated and air-cooled seats.
Standard heated front seats help ensure comfortable driving in cold weather. Enjoy optimal comfort in warm weather with available air-cooled front seats that circulate cool air through perforations in the seat.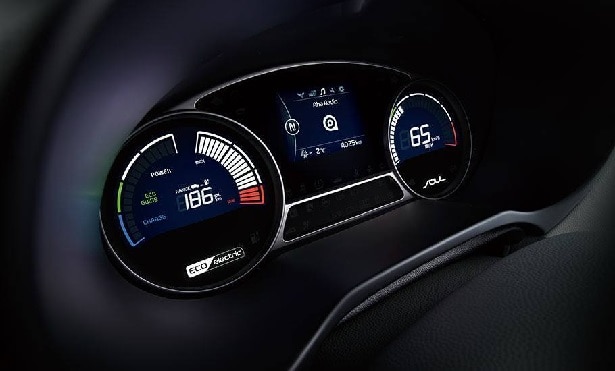 Tech
Next Level Tech.
The Organic LED Supervision instrument cluster controls useful technologies, and helps maximize driving range. You can also access important vehicle information such as range and charge status at a glance. The Soul EV comes loaded with energy-smart innovations. Managing your EV is simple, no matter where you are or where you plan to go.
Set Your Soul.
With the Soul EV head-unit, you can pre-heat or pre-cool your car while it's still charging. Set the time and temperature and the Soul EV will use the charger to power the heating and cooling systems instead of draining the battery. You'll be ready for the road without sacrificing range.
Voice-command navigation.
The convenient voice-command navigation system has a vivid 8-inch multimedia interface. Call up a destination, find a point of interest, locate charge stations or type in an address on the touch screen and Soul EV will take you there7.
Individual Ventilation. 
To avoid significant air-conditioning energy drain, Soul EV allows you to select driver-only ventilation to completely shut off the airflow to the passenger-side vents for when you're driving alone.
Eco-Dynamics.
Kia is always looking for ways to reduce the environmental impact of its vehicles and bring new, cleaner and more fuel efficient products to drivers around the world. We have employed a phased approach to guiding our eco-friendly technology developments, with the ultimate goal being zero-emissions.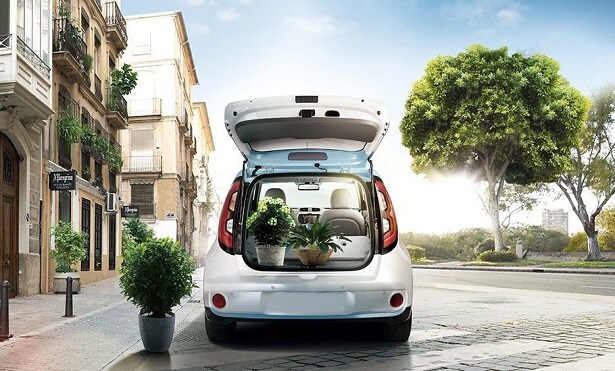 Exterior
Colourful and Cool.
Crafted for standout style, Soul EV offers a two-tone colour scheme, striking LED positioning lights and LED light bar taillights. It features exclusive aerodynamic 16-inch alloy wheels with super low rolling resistance tires to help improve efficiency and range. Soul EV owns a green, forward-looking design that gives new meaning to modern style.
Stand out from the EV crowd. 
The unique body-colour front bumper has a sleek, stylish look. And no gas engine under the hood means a grille-free front end for improved aerodynamics.
Leave an impression. 
It's a departure that draws attention. The Soul EV features a strong and sporty rear lower fascia design. And no exhaust pipe means a cleaner, no-emissions drive.
Performance
Tuned to the modern world. It's an electrifying and responsive drive with 210 lb.-ft. of instant torque. A smooth electric motor for quiet efficiency and thrilling performance with maximized range and assured handling.
Safety All electric.
All safe. It's good to know that Soul EV has your back with standard safety equipment like dual advanced front and dual front seat-mounted side airbags, as well as dual side curtain airbags, and stability control. With the Soul EV there is no reason to sacrifice on safety8.