The New Kia Sorento
With a more commanding presence and advanced technologies for drivers and passengers alike, the new Kia Sorento stands out among today's SUVs. At the moment in life when driving enjoyment meets a need for space and 
a taste for sophistication, the Sorento arrives to save the day.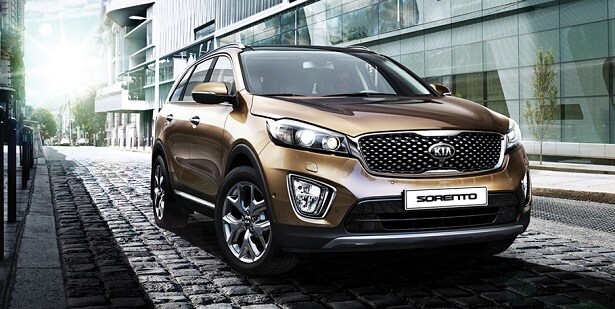 Features
Enhance your visual performance
Around View Monitor (AVM)
This intuitive system combines four wide-angle images, from cameras at the front, rear, and sides of the vehicle, to give you a comprehensive bird's eye view of the space around the Sorento while parking or moving at speeds below 20 km/h.
Smart Parking Assist System (SPAS)
This system uses ultrasonic side-mounted sensors to search the adequacy of the parking space. A parking steering aide automatically steers the vehicle into place. Parallel parking and departure, as well as reverse perpendicular parking, are supported.
Speed Limit Information Function (SLIF)
This feature uses a camera and navigation to read speed limit signs along the road, then displays the posted speed beside the speedometer and on the navigation screen.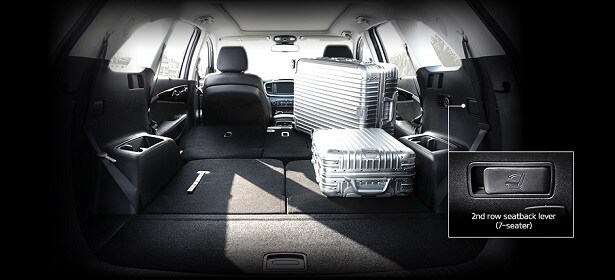 Tap into superhuman attentiveness.
Advanced Smart Cruise Control (ASCC)
ASCC uses a radar sensor at the front of the vehicle to monitor the distance to the vehicle 
ahead. To preserve a predetermined safe distance, the system will apply the brakes, 
and even stop the car, until the vehicle ahead proceeds.
Lane Departure Warning System (LDWS)
This active safety feature uses a camera mounted at the top of the wind screen to monitor lane markings, and to alert the driver if the vehicle deviates from the lane when the turn signal has not been activated.
Blind Spot Detection (BSD)
The system uses radar sensors to monitor approaching vehicles from the rear in the lanes flanking the driver. If a vehicle is detected, a visual alert appears on the sideview mirrors and cluster display.
Technology makes it all seem effortless
Rack-type Motor-Driven Power Steering (R-MDPS)
A firm, solid feel and unprecedented steering response are simultaneously achieved with optional R-MDPS.
Rear Sub-frame
Even 2WD models now feature the sturdy rear sub-frame that AWD models are famous for, further improving driving stabilit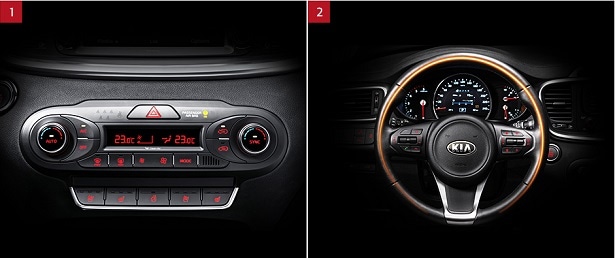 We've given the unthinkable quite a bit of thought
Advanced High Strength Steel (AHSS)
The Sorento uses more than 52.7% Advanced High Strength Steel. This exceptional steel reinforces the front, rear and sides, as well as high stress points throughout the body.y.
Six Airbags
The Sorento offers driver, front passenger, two front-side, and two side-curtain airbags to help protect occupants and potentially reduce injuries, in the event of a collision.
Emergency Fastening Device (EFD)
The 1st row seatbelts in the Sorento feature an emergency fastening device to remove slack and ensure proper seatbelt performance.