With world-class hybrid powertrain engineering, award-winning design, uncompromised performance and advanced safety systems, the 2015 Kia Optima Hybrid is the mid-size hybrid sedan that leaves other hybrid owners green with envy.
Exterior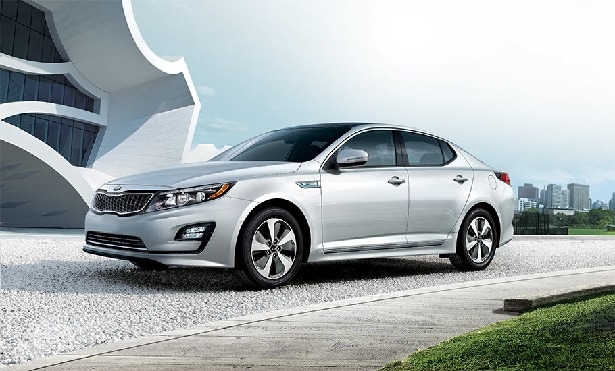 Where Design and Technology Meet
The award-winning Optima Hybrid is the nexus of elegant automotive design and cutting-edge hybrid technology. LED light bar taillights, aerodynamic bumper and trunk lid designs help reduce wind resistance and combine for a more luxurious and balanced look. There are no compromises here, evidence by Optima Hybrid's wide array of standard features including automatic headlights, fog lights and a heated windshield wiper de-icer.

Uniquely Designed Alloy Wheels
Optima Hybrid is easily distinguished by its unique alloy-wheel designs - including 16-inch wheels on the Optima Hybrid LX and 17-inch wheels on EX and EX Premium models. All models feature standard low-rolling-resistance tires for greater fuel efficiency.
Xenon HID Headlights
Optima Hybrid EX and EX Premium models come with standard Xenon high-intensity discharge (HID) headlights for superior nighttime visibility, high-tech image, lower energy consumption and longer service life.1

LED Lighting
Light-emitting diodes (LEDs) are the future of automotive lighting. Optima Hybrid embraces the future with standard LED light bar taillights and available LED fog lights and daytime running light accents.
Panoramic Sunroof
A two-panel panoramic sunroof bathes both rows of seats in natural light. The front panel tilts and slides for an open-air driving experience. A power sunshade completes the package. Standard on Optima Hybrid EX and EX Premium models. 
1 Versus conventional halogen headlights.

Interior
Take Comfort Here
If you expect to make comfort and convenience tradeoffs in return for reducing your environmental footprint, don't. Optima Hybrid offers available features that everyone deserves in a first-class midsize sedan - including air-cooled front seats, heated steering wheel, power folding sideview mirrors, a premium Infinity® branded audio system and an 8" multimedia interface with voice-activated navigation. Hybrid also offers standard features like heated front seats, SiriusXM® Satellite Radio1 and voice-activated Bluetooth® hands-free cell phone technology2 for safer driving. For the driver, Optima Hybrid provides a standard tilt-and-telescoping steering wheel with an available heating function for those cold winter mornings.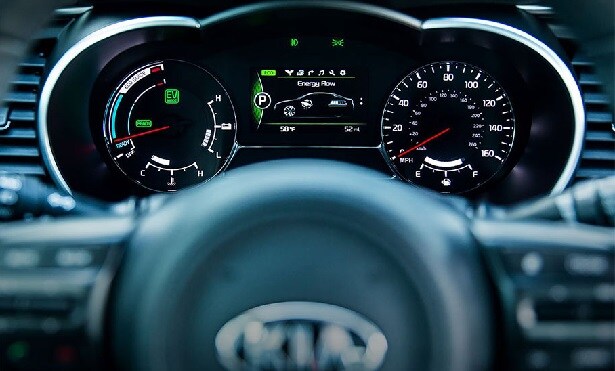 Control Your Environment
With its standard dual-zone automatic climate control, Optima Hybrid is never too hot and never too cold. The driver and front passenger choose their individual comfort settings and the system automatically maintains them. On the EX model, an automatic defog system is also included

Luxurious Seating
In addition to its standard heated front seats, Optima Hybrid is also available with luxurious seating options, including leather seat trim, air cooled power front seats and heated rear seats.
Keyless Convenience
Kia's Smart Key system lets you unlock your Optima Hybrid and start the vehicle without having to search your pockets or purse for a key. It's standard on all Optima Hybrid models along with push-button start.
Entertainment at Your Fingertips
UVO Powered by Microsoft®3 is Optima Hybrid's standard cutting-edge entertainment, communication and infotainment system, providing you with voice-activated control over the audio system, your MP3 player and Bluetooth® enabled cell phone.
1 Available in the 10 provinces and three territories of Canada and the 48 contiguous United States. Monthly subscription sold separately after three trial months.2 Bluetooth ® enabled cell phone required.3 Microsoft is a registered trademark of Microsoft Corporation in Canada and/or other countries. UVO functionality and image may be different from what is illustrated. Failure to pay attention to travel conditions and vehicle operation while the vehicle is in motion could result in loss of vehicle control. Operate the UVO system, even with voice commands, only when it is safe to do so.
Safety
Safety is Paramount
From the beginning, Optima Hybrid was designed and engineered to help keep you safe, protected and in control in all kinds of driving situations. It comes with a full array of standard safety features, including six airbags, four-wheel-disc anti-lock brakes and an impact-sensing system that automatically unlocks the doors following a collision, making it easier for first-responders to assist you. All this is wrapped in a rigid, reinforced body structure for added crash protection.

Rearview Camera
Optima Hybrid's standard Rearview Camera Park Assist uses the UVO system or navigation system screen to display a wide-angle picture of the area behind your vehicle whenever you shift into reverse. It helps make parking safer and easier.1
Stability and Traction
Using selective brake and engine intervention, Optima Hybrid's standard Electronic Stability Control (ESC) and Vehicle Stability Management (VSM) systems help you maintain better control in emergency manoeuvres and slippery driving conditions.
Hill-Holding Safety
Standard Hill-Start Assist Control (HAC) helps keep Optima Hybrid from rolling backward when starting off on steep hill. It automatically holds brake pressure for 2 seconds after you release the brake pedal.
1

 Rearview Camera Park Assist is not a substitute for proper and safe driving procedures. Always drive safely and use caution when parking your vehicle.
Performance
Refined Performance
Optima Hybrid's sophisticated styling is matched by its highly refined performance. A four-wheel independent suspension system and electric power-assisted steering combine to give Optima Hybrid crisp, responsive handling and a smooth, luxurious ride. You will also be pleasantly surprised by the seamless power of its 199-horsepower hybrid powertrain and its superb fuel economy, rated at 6.6L/100 km in the city and 5.9L/100 km on the highway.1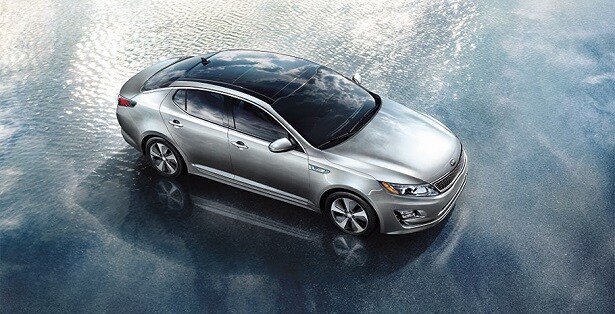 Advanced Hybrid Powertrain
The Optima Hybrid's advanced powertrain combines a specially engineered 2.4-litre four-cylinder engine with a high-torque, battery-powered electric motor. At low-load driving speeds up to 100 km/h, the Optima Hybrid is able to operate under electric power exclusively and uses no gasoline.2 At higher loads - or when added acceleration is required - the engine seamlessly engages for smooth, effortless performance.
6-Speed Automatic Transmission
Unlike other midsize hybrid sedans that use a continuously variable transmission (CVT) with no true shift points, Optima Hybrid uses a 6-speed automatic transmission to deliver the same driveability and shift feel of a gasoline-powered car, like the regular Optima.
Lithium-Polymer Battery
Optima Hybrid's lithium-polymer battery technology (versus competitor's lithium ion or nickel-metal hydride batteries) stores more energy in less space than other hybrid battery designs. This reduces the size and weight of the battery pack, opening up more interior and cargo space and lightening overall vehicle weight.
1

 Based on Natural Resources Canada Fuel Consumption Guide for Optima Hybrid base model. Your actual fuel consumption may vary.
2

 Electric-only mode is dependent on the state of battery charge, vehicle load and ambient temperature.